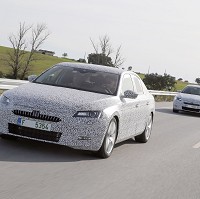 A car builder has whetted appetites for its new 2015 offering by announcing the model's engine line-up.
UK motorists thinking of buying a car from the all-new Skoda Superb range look like having five selections to pick from.
The new Superb stable is due to make its bow here from next September, including an eco-friendly Greenline, said to have CO2 emissions of only 96g/km.
The UK is expected to see three diesel and two petrol engine options.
A further three petrol engines are being made but these are unlikely to be imported because of slow historic sales here.
British motorists will see one 1.6-litre and two 2.0-litre TDI diesel engines offered. The former offers 118bhp, while the latter two provide more power, with 188bhp and 148bhp.
The Superb's UK petrol engines are likely to be 1.4-litre and 1.8-litre alternatives, with the former providing 148bhp and upgraded efficiency and the latter promising smooth performance.
Copyright Press Association 2014