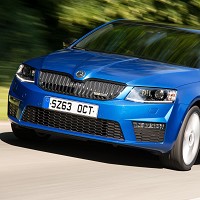 Men's lifestyle magazine FHM has named the Skoda Octavia vRS as its Everyday Car of the Year.
Members of the judging panel for the FHM 2013 Car Awards said they had been impressed by how the new third generation hatchback combines power with practicality and a sporty design.
They said the car's two-litre fuel efficient engine gives it a versatility that makes it ideal for city driving as well as for motoristsplanning longer journeys .
With a top speed of 154mph and capable of reaching 62mph in just 6.8 seconds from a standing start, the Octavia vRS is the fastest road saloon ever made by Skoda.
FHM's deputy editor, Dan Jude, said the car, which is available from £22,990, offers "great performance" and "fantastic reliability without compromising on aesthetics".
Skoda UK's product marketing manager, Chris Horrell, said the manufacturer is "thrilled" that the Octavia vRS hatch's power and "all-round everyday practicality" has been recognised by FHM.
Copyright Press Association 2013