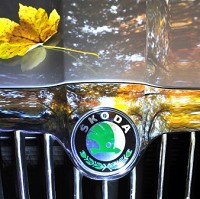 Skoda has rounded off a successful 12 months by being named Car Maker of the Year by Motor Trader magazine.
The magazine also named Liam Cusack from Skoda's Benfield showroom in Newcastle Sales Manager of the Year.
Last year the manufacturer saw UK sales hit an all-time high of 66,081 units - it is the fourth year in a row that sales records have been broken.
The figure is 23% higher than the previous year. The company, which is owned by Volkswagen, now has a market share of 2.9%.
Curtis Hutchinson, editor-in-chief for Motor Trader, said Skoda now has a reputation for producing cars that consumers want to buy, at competitive prices. He also paid tribute to the company's dealer network, which, he said, was "setting new standards" in the motor industry.
The first half of 2014 saw the company pick up where it left off in 2013, with January to June representing its best-ever six-month period. Some 39,000 new cars were registered, up 21% compared with last year.
It isn't the first time Skoda has been recognised by Motor Trader magazine. The company was named Car Maker of the Year in 2007.
Copyright Press Association 2014