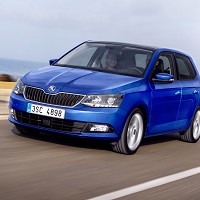 Skoda is celebrating after selling over a million vehicles last year.
It is the first time the company, which is 119 years-old, has hit the target.
Chief executive Winfried Vahland said Skoda had made good ground at a challenging time and continued to expand.
He said the record sales put the company firmly in the 'Champions League' of world car-makers.
Skoda laid out its ambitions for this year, saying there would be new models and it intended to grow even more.
Last year, the brand's global deliveries were up 12.7% to 1,037,200 - compared to 920,800 in 2013.
Its share of the global market was up from 1.3% in 2013 to 1.4% last year.
The marque managed to increase sales by 16.9% in December alone, with 81,900 customers choosing to buy a Skoda and making it the most successful December in its history.
Copyright Press Association 2015