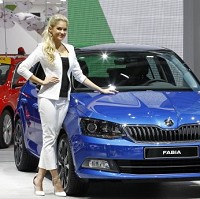 Skoda is the first winner of a new car reliability study.
The JD Power accolade should give motorists buying a car from the Czech Republic-based manufacturer more peace of mind.
The market research firm has gleaned its results from motorists reporting serious breakdowns , annoying in-car entertainment glitches and other faults.
The UK Vehicle Dependability Study made Skoda a comfortable winner with 77 points, outperforming top-end brands.
The average score is 114, with the higher the mark the less reliable the make. Each Skoda analysed is below this rating.
The Fabia has proven particularly successful with only two other vehicles outscoring it in the Small Car section.
Skoda UK's director Alasdair Stewart says the results underline the company's passion for offering customers "dependability" and "quality".
He expressed his delight that this attribute has been officially acknowledged.
Mr Stewart said Skoda's manufacturing quality has made industry rivals envious.
But the company will not be letting up in its quest for improvement. Mr Stewart says that Skoda is forever trying to make its dependability and quality better.
Copyright Press Association 2015