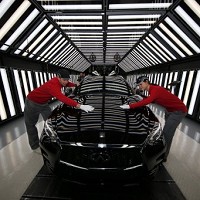 A skills shortage means that thousands of job vacancies in Britain's car industry are going unfilled, a new report warns.
Study author the Automotive Industrial Partnership (AIP) says the research should form the basis of how to address the skills gaps.
It warns that a scarcity of fresh talent could undermine the continuing success of the industry in the UK, with engineers especially hard to find.
The AIP-commissioned study surveyed car manufacturers, component suppliers and other British vehicle companies.
It finds that 5,000 posts remain vacant with 1,000 of these described as being of critical significance.
The motor sector has been one of the recent success stories of the UK economy in both manufacturing and sales.
A total of almost 1.6 million motors were made in Britain in 2015 - the highest for 10 years. The 2.6 million-plus vehicles sold in the UK in 2015 represent the highest number ever.
The AIP's chairman Jo Lopes has warned that skills shortages, especially among engineers, could jeopardise ongoing growth.
Lopes, who is also Jaguar Land Rover's technical excellence head, calls the report's results "very significant".
He says the findings could give ministers and the car industry a starting point from which to combat the challenge and make sure that the automotive sector's growth potential is met.
Mr Lopes says the AIP will play a key part in plugging the skills gaps.
The Partnership has already launched various training schemes since it started, he says.
The automotive sector, including Nissan's giant Sunderland plant, is responsible for about 800,000 UK jobs directly and indirectly.
Copyright Press Association 2016. Motoring News articles do not reflect the RAC's views unless clearly stated.