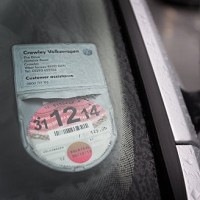 British motorists are begrudge to end their 93-year-old love affair with the humble car tax disc, new research suggests.
Over six in 10 drivers are yet to say goodbye to their paper discs, continuing to display them on their windscreen, according to a poll of 2,004 drivers by Populus.
This is despite new legislation which came in on October 1, no longer requiring motorists to show their proof of payment for road tax.
For decades buying and displaying a paper disc has been as second nature to car owners as taking out car insurance or breakdown cover .
Over one in three drivers (34%) claim they know about the latest changes but can't bring themselves to take the disc out.
But the remainder of disc displayers are less romantic, it seems.
Around one in six (17%) claim they will get round to removing theirs eventually.
A further one in 10 were unaware of the new lack of obligation to display.
The new rules have been introduced because police now simply use motorists' number plates to check with a computerised DVLA database to see if road tax is paid up.
RAC head of external affairs Pete Williams said: "It is right that we move with the times and with high proportions of our daily transactions happening online, including millions of people already using the government's web-based system to register, pay and order their tax disc, this should not be too much of a shock.
"However there will no doubt be a great deal of nostalgia in the years to come looking back on the role the tax disc played in our annual motoring lives. In fact this can already be seen with the thousands of classic car owners who have pre-1966 vehicles but still display a tax disc despite being exempted from the annual road tax.
"So it is no surprise to see the results of this research as the tax disc has been such a permanent fixture for so long."
Copyright Press Association 2014