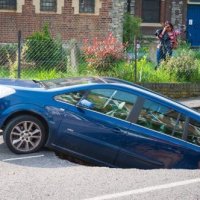 A driver whose car was partly swallowed by a sinkhole says he has at least one reason to be grateful.
Ghazi Hassan says he is thankful that none of his family were in the blue at the time.
The sinkhole partly swallowed the seven-seater vehicle in Greenwich, London, early on Thursday morning (May 12).
This caused the closure of Woodland Terrace and other nearby roads, as well as the diversion of bus routes.
Mr Hassan calls the incident "crazy" and told the Press Association that it had not been a good day.
He had parked the motor outside his brother's home, next to a church and under half a mile away from Charlton Athletic's The Valley football ground.
Woodland Terrace residents say the hole opening up created a thunderous sound between 3am and 4am.
It is many metres deep and about three metres wide.
Residents believe that constant rainy weather may have caused the sinkhole to appear.
Police were called but no one has been injured.
The Royal Borough of Greenwich Council is examining the scene to ascertain what caused the hole.
It has ruled out any links between the collapse and possible old mine works.
The council says it is working in partnership with local gas and water providers and anticipates the road will stay closed into next week.
Copyright Press Association 2016. Motoring News articles do not reflect the RAC's views unless clearly stated.