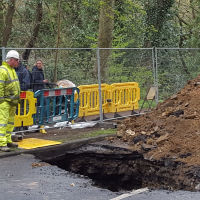 Motorists in Sheffield were required to find alternative routes this week after a large sinkhole opened up in the city.
Local reports have suggested the 20ft-deep hole may have been caused by old mining works dating back several decades.
Workers have begun filling in the hole with concrete after it appeared on Hutcliffe Wood Road on Monday morning, blocking many drivers' route into the city centre.
Pensioner Phil Lovell, 87, said he was sure the hole was caused by the collapse of one of the old drift mines that were driven into the steep wooded hillside.
He said that as a child he played in one mine further up the slope but he thought another ran right under where the hole appeared.
Mr Lovell added that the drifts were dug to mine ganister, a stone used to line furnaces in the steel industry. Old ganister mines litter many areas of Sheffield.
Copyright Press Association 2016. Motoring News articles do not reflect the RAC's views unless clearly stated.