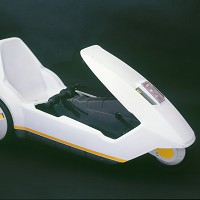 British design icon the Sinclair C5 is marking its 30th birthday by making an appearance at the National Motor Museum in Hampshire.
One of the most unusual vehicles ever to be produced in Britain, the electricity-powered tricycle was launched on January 10 1985.
The vehicle was gifted to the Beaulieu-based museum by its inventor Sir Clive Sinclair after failing to catch the imagination of the public when it was unveiled.
With a retail price of £399, the Sinclair C5 could reputedly be driven for five miles on just one pence of electricity. It was designed to be a cheaper and quicker alternative for one person to travelling by car, bus or bicycle.
The driver of the C5 was exposed to the elements as they sat in an open plastic body shell, with both an electric motor and pedal power being used to provide propulsion.
Sports-car expert Lotus developed the design for the three-wheeled backbone chassis, which was made of steel.
Copyright Press Association 2015