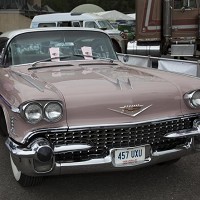 Motorists are being urged to 'think pink' and help raise cash for breast cancer research.
Drivers with cars, vans and trucks in all shades of the colour are invited to the Simply Pink rally - due to be staged at Beaulieu in Hampshire on May 31.
Proceeds from the event will go towards the Breast Cancer Campaign.
It may not be the most common sight on the road, but pink has long been a colour opted for by motorists wanting to stand out from the crowd.
Back in the 1950s US car makers produced pink Cadillacs, Chevrolets and Fords - with American rock singer Bruce Springsteen referencing the trend in his 1984 song Pink Cadillac.
And on this side of the Atlantic some manufacturers followed their lead; Vauxhall offering its Cresta PA with a two-tone pink colour scheme and 350 Morris Minors being sold with a lilac finish in 1961 to mark a million sales of the model.
Those attending the rally will also be able to take in Beaulieu's other attractions which include the National Motor Museum, Beaulieu Abbey, The World of Top Gear and the On Screen Cars exhibition.
Copyright Press Association 2015