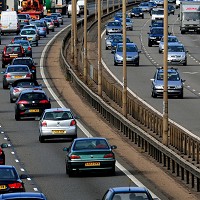 Motorists have been given some simple tips on how to save money on fuel after research suggested many drivers could make some easy savings.
More than half (55%) of motorists are not driving smoothly, according to the study by Shell.
It could mean that although many drivers may well be doing all they can to find the cheapestcar insurance and cut costs in other ways, they are potentially missing a trick when it comes to cutting back on petrol or diesel costs.
The research - entitled the Shell FuelSave Index - also revealed that just 53% of drivers frequently use their highest gears, which is another way to economise on fuel.
To tie in with the findings, Shell has launched a new campaign called Target One Million that aims to help a million drivers around the world learn how to reduce their fuel consumption.
The fuel giant has linked up with Quentin Willson for the campaign and it is releasing online mini-games to help get across the message in a non-serious way.
"Saving fuel doesn't have to be a hassle; it's easy!" Quentin Willson commented.
Copyright © Press Association 2012