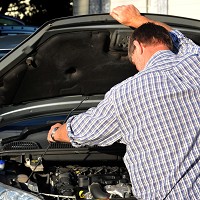 Motorists are being urged to make sure their vehicles are prepared - as the days get shorter and the roads more hazardous.
There are some easy steps to take to ensure you don't end up by the side of the road, although breakdown cover is a must for winter.
In order to keep you car running during the colder weather, make sure your battery is fully charged.
If in doubt about its condition, a new battery will provide peace of mind as it can handle the extra pressures associated with driving in winter, such as greater use of heating and lights.
The Institute of Advanced Motorists (IAM) says other checks include making sure the vehicle has coolant and anti-freeze, which can stop ice forming inside the engine when the temperature starts to drop.
Oil level checks every week are also recommended as you could face a hefty bill for repairs if it runs out and the engine is damaged.
And don't forget the brake fluid, warns the IAM, which recommends topping up the level as it needs it, rather than waiting for a warning light to appear on the dashboard.
Copyright Press Association 2014