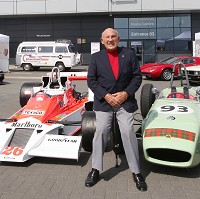 This summer's Silverstone Classic is planning to host the biggest ever parade of Formula One cars.
Racing idol Sir Stirling Moss OBE will be leading the parade as part of celebrations marking the 50th anniversary of racing at the famous Northamptonshire circuit.
Silverstone hosted the first British Grand Prix in 1948 but it shared the event with Aintree and Brands Hatch in the early years, so this year it will be the 50th time it has been held there.
Sir Stirling said it will be a massive honour to lead the parade, which takes place on 25-27 July.
He spoke of the fond memories he has of his many visits to the venue over the years and the prestigious guests, including the Queen, he has met there.
The image of all of the Formula One cars will bring back some of those special memories and evoke the "rich history" of the circuit, he said.
Copyright Press Association 2014