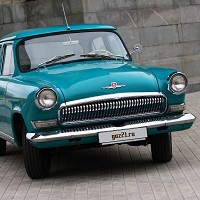 The biggest classic motor racing festival on the planet has attracted a record 80 car clubs set to exhibit an unprecedented 8,269 classic vehicles.
Massive displays and parades, which are being organised to mark special historic milestones for Aston Martin, Lamborghini and the Porsche 911, are tipped to grab the headlines at next moth's annualSilverstone Classic .
But perhaps the most fascinating entry at this year's three-day motoring event in Northamptonshire (July 26-28) comes from far further afield.
Determined members of the GAZ-21 Car Club have taken outEuropean breakdown cover to drive the 6,000-plus kilometre (3,728 miles) round trip from Moscow to the UK.
Vladimir Smagin and Dmitry Kilpio will provide show-goers with two of the most unusual exhibits. The Volga GAZ-21 was initially developed with State approval in 1956 with a design heavily influenced by US vehicles of the same time.
Over the next 14 years no fewer than 639,478 Volgas were created, including a special GAZ-23 Volga model for Soviet special services which was fitted with a V8 engine and capable of exceeding the 100mph barrier.
The drive will take the plucky pair through Minsk, Warsaw, Poznan, Hannover, Antwerp, Brugge and London en route to Silverstone.
Copyright © Press Association 2013