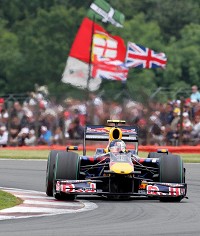 Silverstone bosses have been given the go-ahead to consider investment offers from outside, in a move that could potentially bring Formula One racing back to the circuit.
The board of the British Racing Drivers' Club (BRDC), which owns the Northamptonshire track, has been authorised to evaluate offers relating to Silverstone and its core land.
At an EGM, members voted overwhelmingly in favour of granting powers to the board subject only to the condition that the investment is favourable to the long-term future of British motor sport and the BRDC.
The club is looking to develop the circuit's motor sport infrastructure, related technologies, education and training.
Damon Hill, BRDC president and former Formula One world champion, said: "This vote is a significant result for the future of Silverstone.
"The EGM was not about selling Silverstone. The members were voting on whether or not the board should be authorised to approach and negotiate deals with potential investors on behalf of the Club."
The motor racing circuit has a deal to host the British Grand Prix only until 2009, after which the race will head to Donington Park.
Hill added: "Silverstone is an international sports arena, and we are continuing with plans to develop it in keeping with the very highest standards.
"The primary function of Silverstone will always be racing, hopefully with a Formula 1 British Grand Prix."
Copyright © Press Association 2009