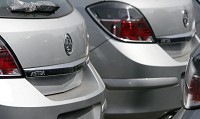 The most popular colour for vehicles across the world is a group containing shades of silver, charcoal and grey, a study has found.
According to coatings manufacturer PPG Industries, around 35% of all cars in Europe are silver/charcoal.
Black was the next favourite colour at 22%, followed by blue and white with 13% each.
Together, the four colour categories accounted for more than 80% of all vehicles in Europe, the data showed.
Fifth on the list was red with 9%, followed by naturals (5%), green (2%) and other/niche colours (1%).
The firm said white appeared to be the fastest growing colour across Europe. Two years ago it accounted for only 7% of vehicles.
PPG manager Reiner Mueller-Koerber said: "White is considered to be very trendy and sporty by consumers in Europe.
"There is high demand to develop white with unique effects. This new interest in white will continue to be a challenge for the designers and technicians."
White was the second most popular colour in North America (18%) after silver and charcoal (25%). Black was third (16%) followed by red (12%), blue (11%), natural colours (7%) and green (4%).
Copyright © Press Association 2009