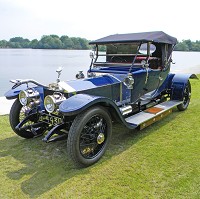 A Rolls-Royce Silver Ghost is expected to receive bids of between £450,000 and £550,000 when it goes under the hammer on September 1.
The vehicle, which is arguably the most famous luxury car in history, is still among the most desirable pre-war vehicle with collectors.
The car, which was awarded the title 'Best car in the world' by Autocar magazine in 1907 a year after being launched, was given the 'Silver Ghost' nickname by members of the press due to its serene presence.
Auctioneer Historics at Brooklands will include the much-loved motor as part of its autumn sale.
The Chassis 1557, which will soon have a new owner, was built in 1911 - the year a Silver Ghost completed a journey from London to Edinburgh and back in top gear with a fuel consumption of 24mpg.
Given the car's age, whoever buys it might have to leave some room in their budget for sizeable car insurance and breakdown cover if they plan to drive it on the roads.
Historics' Auction Director Edward Bridger-Stille said: "With nine sales now under our belts and nearly 1000 cars put forward, this is one of the finest examples we've had the pleasure of bringing to auction."
Copyright Press Association 2012