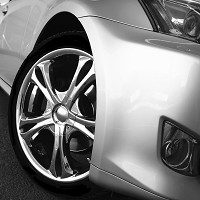 There has been a rise in the number of monochrome colour cars on Britain's roads, according to the latest statistics from the Society of Motor Manufacturers and Traders (SMMT).
In 2013 silver proved the most popular car colour, accounting for 24.9% of all vehicles.
Blue fell 2.7% on the 2012 figure but still came in as the second most popular colour (20.3%), while black increased its share of the colour market by 4.8%, accounting for 18.4% of cars on the road.
Grey's prominence rose by 5.6% to 10.8%, while red fell by 0.5% to 10.9%.
The number of cars on UK roads reached more than 31.91 million in 2013, according to SMMT figures, marking an increase of 436,000 on the last year - the fastest growth for 10 years.
The number of cars over 12 years old increased by 11.3% in 2013 compared to 2012, with 2.06 million more older vehicles on the road. In the past decade the average age of a car has increased by a full year (to 7.7 years old) as cars remain able to stay on the road for longer.
Close to 20% of cars were built in the UK, with only Germany having a higher market share here. Spain, France and Japan make up the rest of the top five, which accounts for more than 75% of total cars in Britain.
The Ford Focus is the most popular car on Britain's roads, with 1.5 million models, with the Ford Fiesta coming in just behind according to the SMMT.
Copyright Press Association 2014