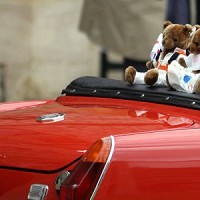 Motorists are more likely to have their car fall prey to 'chipping' depending on its colour, ChipsAway research suggests.
The minor car paintwork repair firm has printed a list of the five car colours it repairs the most for scrapes and scratches.
And the findings may prove a deal clincher when it comes to buying a car .
Certainly, the new survey dispels some common myths - such as green cars being the most commonly involved in accidents. In fact this type of vehicle doesn't even appear in ChipsAway's top five.
Silver cars head the table of most commonly chipped vehicle, constituting nearly a quarter of all repairs (24%) that the company deals with.
Black motors follow closely behind with just over one in five (21%) of the firm's overall jobs. Despite its poor ranking, this flies in the face of previous research which suggested that black cars are more frequently involved in prangs than any other. This was blamed on them being more difficult to see than more brightly-hued vehicles.
Blue car chip repairs represent 18% of the workload, despite only making up 13% of the total car population in the UK last year.
Grey, Britain's third favourite car colour, accounts for 14% of the overall amount of cars sold in 2014 - and it's the same proportion for the number of chips.
Red cars may be losing their standing in the popularity stakes compared with 20 or 30 years ago, but they certainly seem a safer bet when it comes to avoiding chips. Under one in 10 (9%) of motors being attended to by the report author's mechanics is this colour.
But if drivers want to pick up a car that's statistically best at avoiding little nicks then they need not look further than white. Britain's favourite car colour may account for 22% of all sales, but they also represent just 7% of chip repairs. This helps them to maintain their value more than any other.
British drivers bought 544,815 white cars in 2014 out of a total of 476,435 machines sold, according to the SMMT.
Copyright Press Association 2015