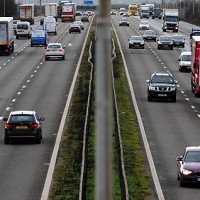 Motorists are to be kept updated about fuel prices on motorways with new electronic signs.
An 18-month trial will run in parts of the West Country from next spring and be rolled out nationwide if successful.
The RAC has welcomed the trial, saying that motorway service stations can charge drivers anywhere between 10p and 15p per litre over the nationwide average.
It is hoped the new Highways England (HE) experiment will help to tackle higher motorway service station prices by encouraging more competition among fuel providers.
Nearly half of people driving on motorways avoid service station petrol if they can, according to an RAC poll carried out last year.
The southbound M5 Bristol to Exeter will trial the new signs, alerting motorists to prices at Exeter, Taunton Deane, Bridgwater, Sedgemoor and Gordano. This will enable drivers to compare fuel costs.
Simon Williams, the RAC's fuel spokesman, said: "While long overdue, this trial is very welcome as motorway drivers are regularly paying up to 10p a litre more than the national average for their fuel or, compared to the cheapest retailers, up to 15p more.
"A move to introduce motorway fuel price signs, already commonplace on continental roads, is therefore welcome and something the RAC has been calling for."
Mike Wilson, chief highways engineer for HE, says the new price signs will help to keep motorists informed of pump costs and have greater control over their journeys.
He said that a breakdown due to an empty tank cannot only put the motorist involved at risk but other road users also.
Mr Williams continued: "We believe motorway service area operators take advantage of drivers having to make distressed purchases so the more information motorists have about the costs they face if they opt to stop at a motorway to fill up, the better - although ultimately drivers will still be faced with a choice between one expensive fuel retailer and another."
Andrew Jones, the Roads Minister, says that the trial of the new signs should allow drivers to shop around for the cheapest petrol and diesel.
Mr Williams added: "The Government now needs to provide clarity on what measures will be used to confirm if the signs trial has been successful or not.
"Part of the problem remains the fact that motorway service stations are monopolies and feel they can fleece the motorist at each turn.
"A public display of just how expensive motorway fuel is has to be a step in the right direction, but attention should also be given to making prices fairer for motorists in the first place.
"Eighteen months also seems like a long time for a trial - so the reality for most motorists is that we are still a number of years away from full fuel price transparency on our motorways."
Copyright Press Association 2015