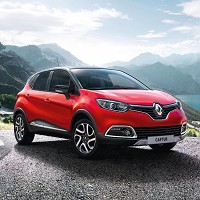 Renault is expecting a host of new UK customers to sign on the dotted line for a new top trim version of its Captur compact crossover.
The Captur Signature packs in even more extras than the previous top-of-the-range Dynamique S MediaNav.
The Captur is available from £17,495 and among its standard add-ons are 17-inch alloy wheels featuring black inserts and hints of chrome in its boot lid, fog lamps, grille and side strips.
A Red Touch Pack brightens the interior with flashes of red on the air vents, centre console and speakers, while the driver and passengers enjoy the luxury of its part-leather seats. The Captur Signature also comes with its own doorsill plates and mats.
The car's gadgetry features R-Link infotainment technology, with touchscreen, sat-nav, USB connection and improved audio system. Parking the Captur Signature is easy thanks to rear parking sensors and a rear-facing camera.
Buyers get all this as standard, as well as thumbwheel-operated Grip Xtend traction control to improve handling under tricky driving conditions.
Copyright Press Association 2014