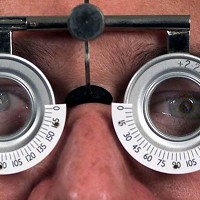 Failing eyesight was the cause of almost 6,000 drivers having their licences taken from them during 2011.
This was an increase on 10% on the previous year. There was a 39% rise in the number of bus and lorry drivers who lost their licenses.
Last year 685 licences for bus and lorry drivers were revoked, while 5,285 for cars and motorbikes were stopped because of a standard eye test failure.
Transport Minister Stephen Hammond told the Mail Online: "Licensing rules have an important part to play in keeping our roads safe.
"We must make sure that only those who are safe to drive are allowed on our roads while at the same time avoiding placing unnecessary restrictions on people's independence.
"All drivers must meet certain minimum eyesight standards. There are additional checks for drivers of large goods vehicles and passenger carrying vehicles, which we strictly enforce.
"This is to protect the driver and other road users given their size, the number of passengers and the likely additional distance and time spent on the road."
Labour MP Meg Munn told Parliament: "A recent report showed that in 2010 road accidents caused by poor driver vision resulted in an estimated 2,874 casualties.
"These figures provide information on how many drivers who have come forward and reported problems with their vision to the DVLA had their licenses revoked or refused."
Copyright Press Association 2013