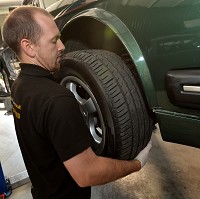 A fifth of motorists say they have had to have a tyre changed in the last year as a result of damage to its sidewall.
The nationwide spend on this type of damage is £439 million a year - and does not include the replacement of tyres due to tread wear.
Breakdown cover will come in handy if your car suffers a blown tyre, but you can reduce the likelihood of needing to fall back on this by taking good care of them in the first place.
More than half of drivers questioned in the survey by Kwik Fit said their tyres or wheels had been damaged in the last two years.
Just over one in five (22%) said damage had been sustained while driving over a pothole, while around one in 10 said hitting debris on the road had caused it.
Some 10% have driven into the kerb while parking. Tyres being under-inflated was the root of damage for 4% of car owners.
Just over a third of the motorists who were quizzed said they check their tyres' sidewalls every month.
Copyright Press Association 2014