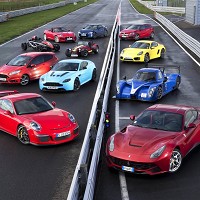 A 468bhp Porsche 911 GT3 and Aston Martin V12 Vantage S will be among the supercars in action at the Performance Car Show in January.
These are two of 10 cars set to be on show in the 5,000-seater Live Action Arena for the Performance Car Show during the Autosport International event at the Birmingham NEC.
Fans will hear the roar of world's most powerful four-cylinder production engine in the Mercedes-Benz A 45 AMG and also clock a Toyota GT86, Jaguar F-Type S, Porsche Cayman S and Ford Fiesta ST Mountune.
Track cars from Aerial, Caterham and Radical will make up the 10-car parade with the Atom 3.5 SC, the 311bhp supercharged Seven 620R and the RXC respectively.
Autocar is bringing together a superb array of powerful and stylish cars for the show and fans will see them in all their glory as footage will be displayed on a huge 90-metre wall of screens, according to event director Ian France.
Autosport International is Europe's biggest motorsport show and this year's attendees include the only person to have won world championships on two and four wheels, John Surtees; Sky Sports F1 presenter and former F1 driver Martin Brundle and Andrew Jordan, the new BTCC champion.
The event will be held from January 9-12, tickets are available now.
Copyright Press Association 2013