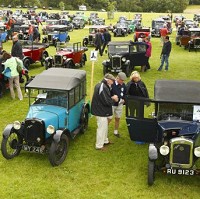 The Austin Seven and Bentley's Speed Six are two of the classics nominated for Britain's Greatest-Ever Car accolade.
They both feature in a final 10 shortlist for a classic motor magazine's quest to find the ultimate Brit-car.
Classic & Sports Car magazine's officials got together 100 experts with a love of British-built machines to arrive at the contenders.
The car-loving public will get their chance to vote on their favourite before this autumn's London show being organised by the magazine.
Even the prestigious DB5 from Aston Martin failed to make the cut, giving a good idea of how tough the competition was.
Rolls-Royce's Silver Ghost, McLaren F1, Ford GT40 and Mini Cooper S join the Austin Seven and Bentley's Speed Six in the shortlist.
Jaguar's E-Type and XKSS, Range Rover and Lotus Seven also make the final list of contenders awaiting the public vote.
Ford's Escort Mexico, Rover's SD1, the prestigious Gordon Keeble, Bristol 405 and D-type Jag all won honourable mentions without quite convincing the judges to put them through.
Motorists can cast their vote before August 1, while 25 lucky voters will win two free show tickets.
The experts who have already cast their vote include Simon Taylor, the motor racing commentator and author, classic car fan and Dire Straits lead singer, Mark Knopfler.
Nick Mason, a classic car hoarder and Pink Floyd's drummer, Russell Carr, design head of Lotus, Gordon Murray, the designer behind the McLaren F1 and the magazine's journalists also had their say.
Mr Murray has made no secret of his favourite nominee. He calls the Mini a real "game-changer" and work of "genius". Mr Murray was swayed by what he called "fantastic" styling and packaging, "brilliant" handling and classlessness which made it such a story of real success. He also pointed to the model's high standing in motorsport competitions.
As an added bonus for visitors to the Alexandra Palace-staged car show (which runs from October 30 to November 1), all 10 contenders will be displayed. The eventual winner will take pride of place.
Copyright Press Association 2015