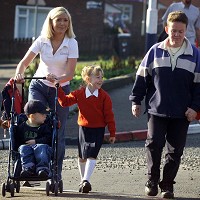 British parents are forking out millions of pounds each year just to ferry their children less than one mile to school, according to new research.
Zipcar, the pay-as-you-go car network, claims mums and dads rack up an annual bill of £51.2 million on such journeys - enough money to fund 47 primary schools for an entire year.
In total, some 1.9 million parents drive their kids to and from school on a daily basis, compared to only 1.6 million who walk.
For many the school run is complete carnage, with people citing difficulty parking (40%) and regular traffic jams that not even a journey planner can help bypass (21%) as regular occurrences.
National Walk to School Week, a campaign aimed at encouraging parents to ditch their cars for walkable school journeys, hopes to make the school run a stress free experience.
"Zipcar is in full support of Walk to School Week," said Mark Walker at Zipcar. "We are devoted to getting Britons thinking smarter about how they use their cars.
"Our research identifies a potential 1.1 million cars that could be taken off the road during peak times."
Copyright Press Association 2013