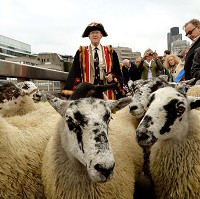 Traffic in Central London came to a standstill on Sunday as a flock of sheep were herded across London Bridge.
The rather unusual spectacle came about as the Lord Mayor of the City of London exercised his ancient right to drive the animals over the Thames.
A total of 20 Suffolk and Texel sheep made the trip, led by numerous Liverymen and Freemen of the City.
Motorists, however, were forced to adjust theirjourney plans and follow a series of diversions around London Bridge.
The event was organised by the Worshipful Company of Woolmen, one of 109 Liveries in the capital, to raise money for the Lord Mayor's appeal and the company's own charitable trust.
Beneficiaries include the City Music Foundation, Futures for Kids, Gifford Wood Appeal, the Harold Samuel collection and the Lord Mayor's scholarship programme. The last sheep drive, in 2009, raised £50,000.
"We want people not only to witness but also to take part in a uniquely British tradition," said Bill Clark, Master of the Worshipful Company of Woolmen.
"The point of this event is to raise awareness of the London Liveries and the important work that they do with charities."
Copyright Press Association 2013