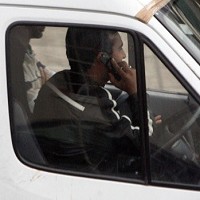 Drivers may be heeding the 'no phones at the wheel' message at last, new figures suggest.
The amount of penalty notices given to motorists for the dangerous offence has dropped significantly, according to a BBC Radio investigation.
This number fell by 23.9% to nearly 73,000 last year in Wales and England, from 96,000 the year before.
But driving organisations say this may be more to do with fewer traffic police than raised awareness.
RAC spokesman Simon Williams said: "Sadly these figures don't come as a surprise - as we highlighted in February, traffic police numbers across England and Wales have been cut by more than 1,200 since 2010. In some areas, numbers have dropped by more than 75%. So the fact is that there are fewer officers to catch drivers that are flouting the law.
"We need to get to a stage where handheld mobile phone use while driving is as viewed as being socially unacceptable, like drink-driving: driving demands a person's full attention, and the risk of using a phone at the same time is just too great."
Radio 5 live Daily's Freedom of Information application to police forces nationwide found that the Staffordshire force handed out only four mobile phone use-related penalty notices in 2014. This was the smallest number among forces which responded.
Staffordshire is one of the forces using re-education programmes to change attitudes, much in the same way speed awareness courses are employed to help drivers convicted of driving too fast.
Its own 240-minute "Crash Course" aims to change motorists' attitudes in a bid to prevent thousands of people being killed on the roads.
Nationwide, over 99,000 motorists underwent the "What's Driving Us" programme last year - a rise of 53% on the year before. This course targets drivers who intentionally break the law, such as mobile phone use while motoring.
Some offenders claim their actions are caused by confusion over phone laws .
Patrick McLoughlin, the Transport Secretary wants to see penalty points doubled to six from the current three for mobile phone-driving. Suzette Davenport, Gloucestershire Police's Chief Constable, also wants to see stricter penalties.
The charity Brake, responding to the new figures, called on the Government to make traffic policing a countrywide priority. The road safety campaigner added that far greater fines would also deter phone-drivers.
The family of a phone-driving accident victim has also warned against complacency. Paul Newman is "scared" the new statistics will make motorists mistakenly believe the problem has gone away. Mr Newman's sister Ellen was killed after being hit by a motorist speaking into his mobile. He said that education and penalty points won't make the problem disappear.
More than eight in 10 (81.8%, or 36 out of 44 Welsh and English police forces) replied to the BBC's request.
Copyright Press Association 2015