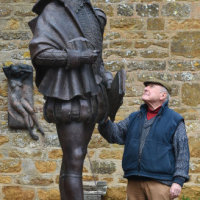 Plans to mark the 400th anniversary of Shakespeare's death by erecting a statue of him in Stratford-upon-Avon have been blocked because a council believed its proposed location could drive motorists to distraction.
Local businessman Tony Bird, who commissioned the eight-foot-tall bronze statue, had wanted to put it on a traffic island in the town centre.
But h ighways chiefs at Warwickshire County Council say using the busy Bridge Street location - not far from both the Royal Shakespeare Theatre and The Bard's childhood home - could compromise road safety.
In a letter to planners they say putting sculptor James Butler's statue in that spot could increase the chances of an accident, prompting Mr Bird to withdraw his planning application.
They say while motorists could be distracted if the work of art was placed there, pedestrians may put themselves in danger by stepping out on to the road to take photos of it.
Renowned sculptor Mr Butler, 84, who was made an MBE in 2009, says it is "such a pity" that the statue was not in place to commemorate the landmark anniversary of Shakespeare's death.
Although it also objected to the planning application, Stratford-upon-Avon Town Council says it would welcome the statue if it were installed in a more accessible and appropriate place.
Copyright Press Association 2016. Motoring News articles do not reflect the RAC's views unless clearly stated.