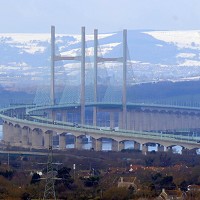 Workers who staff toll booths on the Severn Bridges are set to stage a 24-hour strike and other forms of industrial action in a dispute over changes to shift patterns.
The Unite union said next week's action by around 70 of its members on the link between England and Wales could cause severe disruption to traffic.
The union said it was still seeking to avoid the action and was holding talks with bridge operator Severn River Crossing.
An overtime ban and work-to-rule is due to start at 5.55am next Tuesday, August 21, while the strike is due to go ahead on Friday August 24, the start of the Bank Holiday weekend.
Unite said the company was obliged to keep the two bridges open, so one option could be to suspend tolls.
Regional officer Jeff Woods said: "The management has remained intransigent in negotiations. The new shifts proposed would make a mockery of our members' work-life balance, so as a last resort they have voted to take strike action.
"We hope that we can resolve this dispute before the industrial action starts, but the management needs to be more flexible.
"Both Unite and the management are committed to finding a solution to the dispute."
Car drivers pay £6 to cross the bridge into Wales.
Copyright Press Association 2012