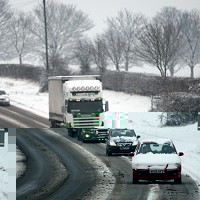 Another severe winter could stop Britain's traffic firmly in its tracks, according to a report from the Local Government Association (LGA).
It urged bus and train companies to better prepare themselves for extreme snow and ice conditions.
And it found workers were left out in the cold when it came to firms' bad weather contingency plans - with too few being in place - leaving employees unaware of what to do.
The LGA said Network Rail and train companies should install new equipment to make sure that trains can keep running in cold weather and both train and bus companies should be better prepared to operate revised services.
The report said that while it may not be a good use of taxpayers' money for councils to stockpile more salt, the UK was almost entirely reliant on just two companies for supplying grit for the roads.
The LGA criticised salt suppliers for failing to admit that they were struggling to meet demand during last year's crisis, as this would have allowed councils to find alternative supplies.
The report was also critical of the way the cold snap at the beginning of February this year was handled.
Copyright © Press Association 2009