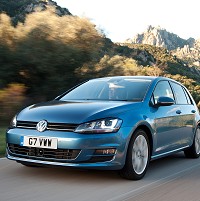 The new Volkswagen Golf is now available to purchase and the German car manufacturer is promising that it is more advanced and more efficient than ever before.
Prices start at £16,285 on the road, rising to £24,880 depending on the level of trim and the type of engine selected. The lowest cost model is actually cheaper than the previous version.
There are three levels of trim currently available in the UK: S, SE and GT. However, Volkswagen plans to add GTI and BlueMotion to the range as soon as next year.
Over 29 million Golf cars have been sold by Volkswagen up until this point and the seventh-generation model is likely to prove just as popular. All new Golf models include battery recognition and a Stop/Start system as standard.
Volkswagen has made the Golf available in three and five-door versions and motorists also have the choice of two diesel engines and four petrol engines. At launch, the diesel engines are a newly designed 2.0-litre TDI 150 PS and the 1.6-litre TDI 105 PS, which both include the latest diesel technology for improved fuel-consumption.
Copyright © Press Association 2012