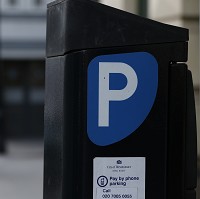 Thanks to a new app and fresh technology, parking in central London could soon become a lot easier.
Westminster Council has installed sensors on 3,000 spaces which, in combination with the ParkRight app, can help drivers pinpoint which parking bays are already full, cutting out a lot of fruitless circuits of the capital's roads.
With more than 600,000 cars entering the centre of London every day, research by IBM suggests drivers can spend a quarter of an hour on average each day looking for a space - not only clogging up the roads and bumping up personal stress levels, but choking the atmosphere.
The RAC's Report on Motoring 2014 paints a picture of a parking battleground on the nation's streets, with motorists well and truly caught in the crossfire - trapped between fewer parking spaces where they really need them and increasing parking charges for those spaces that are left as local authorities look to raise extra revenue to fill gaps in their budgets.
RAC technical director David Bizley said: "It's time for a reality check when it comes to parking in Britain. We have to find a happy medium between the desire of motorists to get to where they want to go, which our research shows is driven in part by inadequate public transport provision in many parts of the country, and the need to keep our towns and cities moving.
"Parking has always been an emotive issue for the nation's drivers - whether that's caused by driving around city centres endlessly to find an elusive space, or a neighbour mindlessly blocking your driveway.
"Initiatives such as this by Westminster Council are certainly welcome if they assist drivers in the capital and help open up more parking spaces."
A trial in the West End has seen sensors placed in various zones. Westminster Council is pledging to put another 7,000 in place, making it the first council to bring out the technology across its whole road network, following a successful pilot scheme in Savile Row, Jermyn Street and St John's Wood High Street.
The new trial area covers Mayfair, St James's and Soho, Covent Garden and the Strand.
It will see the sensor updating a central database as to where spaces are available. From this, drivers can use the app to pinpoint where they can park - although they are advised they can only do so if they use their phone as a satnav with the appropriate equipment, or if they have stopped completely.
Copyright Press Association 2014