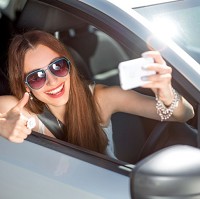 Video calls and selfies are becoming "common practices" among drivers on the UK's roads, a worrying new poll has found.
In the past month alone, nearly one in 11 motorists (9%) have taken their life into their own hands by snapping selfies while driving, the Institute of Advanced Motorists (IAM) reports.
The survey looked into the gadget-using habits of 500 motorists nationwide. It found that far too many drivers not only take selfies, but also watch videos and undertake video calls while behind the wheel too.
The IAM reports that the country's device-using motoring behaviours are no less risky than a year ago - when Ford showed that UK drivers are Europe's most frequent selfie takers .
Last year the RAC urged drivers, especially young people, to place their safety above peer pressure when it comes to taking selfies and using mobile phones when motoring .
Pete Williams, external affairs head for the RAC, said then: "With enforcement appearing not to be working we perhaps need to talk less of fines and more about how we create a united campaign that aims to make speaking, texting and using social media on a hand-held mobile as socially unacceptable as drinking and driving."
The latest poll shows again that young drivers are the ones most likely to offend.
The 25-35-year-old age group are twice as likely to have taken a selfie in the last month. Around one in six (15%) motorists between 18 and 24 also admit to this.
Across the age range, male drivers (12%) are more than twice as likely to take a selfie as their female counterparts (5%).
Around one in 12 drivers (8%) confess to motoring while using Skype, FaceTime or other video-calling apps. This figure doubles in the 18-24 age range.
One in 14 drivers (7%) own up to viewing videos, including catch-up TV streaming. Again, this practice nearly doubles among younger drivers, including 25-32s (15%) and 18-24s (13%).
Yet the amount of smartphone-using motorists who have been punished with penalty points for the offence plummeted by over 40% last year.
Sarah Sillars, IAM CEO, calls the results "shocking", and claims that video calls and selfies have become "common practice".
Copyright Press Association 2015