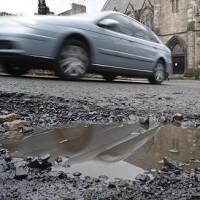 New technology could finally rid motorists of one of their greatest bugbears - the pothole - by the middle of this century, according to a new report.
Self-healing concrete is among the revolutionary projects detailed in Arup's study into possible highway trends to 2050.
The engineering firm says the concrete could generate bacteria which would fill cracks if concrete became damaged.
This could spell the end of motorists claiming on their car insurance for damage caused by potholes.
Other futuristic schemes to improve motoring include solar panels replacing traditional road surfaces.
These, the study says, would not only melt snow in bad weather, but charge electric cars.
Drivers would also be warned about plummeting temperatures by weather-sensitive road paint which would produce huge snowflake-shaped alerts to warn of icy conditions.
Commuters' relationships with cars will also change, according to Arup.
Motorists will be less likely to own vehicles in favour of buying access to one instead, with electric cars becoming more widespread with technological advances.
Rises in the amount of walkers and cyclists are also predicted.
The study envisages many environmental and safety advantages of roads that will be filled with driverless vehicles benefiting from totally automated navigation technology.
Copyright Press Association 2014