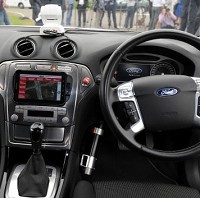 Driver-free cars have the potential to create over 300,000 new jobs, the motor sector's trade association is announcing.
Attendees at the Society of Motor Manufacturers and Traders' (SMMT) inaugural SMMTConnected event in London will hear about some unexpected benefits brought by the progressive technology.
In addition, autonomous, connected and driverless motors will slash the rate of serious road accidents by over 25,000 a year by 2030, according to the KPMG study quoted by the SMMT.
They will also pump £51 billion into the UK economy, the auditor found.
The QE2 Conference Centre's gathering will be the first time stakeholders have met to speak about autonomous cars' potential. The UK was the world's first country to trial Government-financed driverless technology across Milton Keynes, Bristol and four other locations only last month.
Mike Hawes, chief executive of the SMMT, says such technology will "transform" the UK's roads in the years ahead.
"The KPMG report clearly shows the UK automotive industry is leading the way in developing the cars of the future and that it will act as a catalyst for wider economic benefits that will create more than 300,000 jobs by 2030," he explained.
He said KPMG's study demonstrates that the UK is a world leader in new automotive technology and urges companies to keep it so.
Copyright Press Association 2015