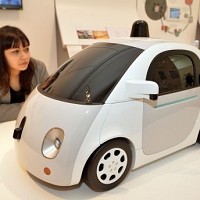 Technical glitches or safety concerns have resulted in drivers having to step in and take control on scores of occasions during the testing of driverless cars on public roads in the US, reports show.
With permission from California's Department of Motor Vehicles, seven firms have been testing self-driving vehicles on the state's roads over the last 16 months.
Google's test reports, released by the department, reveal that its vehicles, which have clocked up a total of more than 424,000 miles, have required human assistance on 341 occasions. They include 11 times when Google says there would have been a crash had someone not taken over control of the wheel or pedals.
The head of Google's self-driving car project, Chris Umson, says although the company's test results are "encouraging", they show the technology is "not quite ready yet" and that the presence of a driver is still required.
Nissan, meanwhile, which hopes to have self-driving cars on the market by the end of the decade, says people had to take control of its vehicles 106 times during tests covering 1,485 miles.
Copyright Press Association 2016. Motoring News articles do not reflect the RAC's views unless clearly stated.