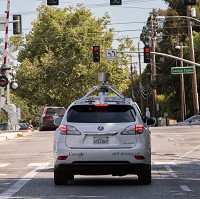 Motorists will be using Google's self-driving cars by the end of the decade, according to the director of its project.
Chris Urmson said he expects the cars to be on the road at some point in the next two to five years, although he stresses they will still be test vehicles at that stage.
Google has been testing the small self-driving cars - which do not have pedals or a steering wheel - for some time at a centre in California.
It is currently trying to develop sensors which can detect road signs and other cars, and to create software which analyses the incoming data.
Speaking at the Automotive News World Congress in Michigan, Mr Urmson said Google is also trying to figure out a way to make profit from the cars.
He said the main focus for his team is to find out how drivers would use and interact with the vehicles, and how the company can "best bring that to market" so that customers are presented with a product they really care for.
Copyright Press Association 2015