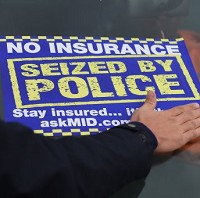 Uninsured drivers have been warned they will be caught, as the number of impounded uninsured vehicles continues to rise.
The Motor Insurers' Bureau (MBI) warning comes after its new estimates suggest around 118,500 vehicles with no cover will have been confiscated by the end of the year.
This is a 2% rise on the 116,000 motors seized in 2014 and around 2,000 up on its target for the year. Its 116,500-vehicle goal was reached a fortnight early.
RAC Insurance spokesman Pete Williams said: "With a worrying number of motorists driving on UK roads uninsured the fact that the authorities are making a real effort to crackdown on and prosecute offenders offers some reassurance.
"The RAC's Report on Motoring 2015 revealed that 26% of motorists are concerned about uninsured and untaxed drivers with 7% stating it as their top concern."
The MBI works in tandem with local police forces in the fight to reduce uninsured driving. Motorists driving with no car insurance risk a £300 fine and six driving licence points.
Offenders also face getting home on their own, a daily £20 car storage charge plus a £150 charge to get their vehicle back.
The authorities crush the 30-40% of the impounded cars which go unclaimed for two weeks.
MIB chief executive Ashton West told Press Association reporters that the new figures make the message clear: if you don't get insured we will find you out.
The latest statistics seem to be having a dramatic effect on reducing the number of offenders, he said.
Mr West says that the number of uncovered motorists has halved in 10 years to about 1 million today from almost 2 million during 2005.
The not-for-profit Bureau is effectively a safety net which aims to help blameless drivers who suffer road accidents where the guilty parties are untraceable or uninsured.
The insurance sector-financed MIB can legally get back any payments due to hurt victims of uninsured motorists, as well as any costs in making the claim.
Its database is used by the police to find out if vehicles are insured.
The MIB call centre handles inquiries from police for details involving about a third of seized vehicles.
The centre helps officers check extra information, including if a motorist claims they are covered when the Bureau's database says they are not.
Copyright Press Association 2015. Motoring News articles do not reflect the RAC's views unless clearly stated.