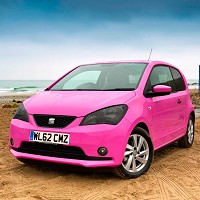 Cornish dealer Dales Seat's special model of its Mii is now available to special order after the city car proved a hit with drivers on Twitter.
The Mii 'Minx' is a version of the Mii Sport with a 1.0-litre 75PS engine that also boasts a smart pink gloss vinyl wrap and tinted lights for a new, unique style - easy to spot in a bad weatherbreakdown .
Dales Seat asked its followers on Twitter to think of a name for the new model, with users of the social networking site choosing 'Miinx' ahead of 'Miinky' for the car.
Dales' Tom Rawlings said: "One thing's for sure - the Miinx is a car that always provokes a strong reaction, good or bad.
"We've been absolutely overwhelmed by the response to the special edition since we launched it. From the day we first parked it outside our showroom, people have made a point of coming in to tell us what they think."
He continued: "The car has also divided opinion on Twitter. I tweeted a photo and within minutes hundreds of people were commenting about it. But we couldn't believe it when people from all over the place started calling the dealership to enquire about the car. We've obviously done something right."
Orders are available through Dales Seat, with an RRP of £11,500 and £100 from each sale going to the Breakthrough Breast Cancer charity.
Copyright Press Association 2012