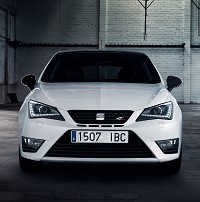 Seat has announced that the new Ibiza Cupra will be available from January next year for £18,825.
The updated production version of the company's classic supermini has hardly changed since it was introduced as a concept car at Beijing International Automotive Exhibition in April.
The latest Ibiza Cupra will feature excellent performance, with a top speed of 142mph and the ability accelerate from 0-62mph in just 6.9 seconds, combined with an average fuel consumption of 47.9 mpg.
UK customers will be able to order the new Ibiza Cupra from next week.
The first Cupra was created 16 years ago in 1996 as a top-of-the-line Ibiza to commemorate SEAT's World Rally Championship victory in the 2.0-litre category and has appeared in the company's line-up ever since.
President of SEAT SA, James Muir, said: "The Ibiza Cupra is one of the icons of the SEAT brand. Its stunning design and refined dynamics promise driving fun mile-for-mile.
"With its innovative technologies, upgraded interior and further improved quality, the new Ibiza Cupra clearly shows how quickly and consistently our brand is continuing to develop."
Copyright © Press Association 2012