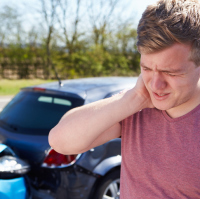 Engineers have designed an integrated reactive head support and car seat system that they say could help protect motorists against whiplash injury.
Scientists from Loughborough University say the car seat and head restraint have been designed to react at the same time as the driver or passenger's body pushes back against the seat in the event of a back-end collision.
That, they add, helps limit the different movements between a car occupant's head and torso that can cause whiplash injuries when such accidents occur.
The system has been designed by scientists at the university's Wolfson School of Mechanical and Manufacturing Engineering.
Mechanics expert Professor Memis Acar told the Leicester Mercury that the results of simulations suggest that the system would be effective in helping to cut the number of whiplash injuries.
Professor Acar adds that the design - whose concept has been published in the International Journal of Crashworthiness - would be "affordable" and "easy to manufacture".
Copyright Press Association 2016. Motoring News articles do not reflect the RAC's views unless clearly stated.