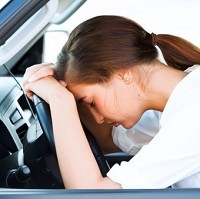 Nodding off behind the wheel while driving can have clear, disastrous consequences for motorists and other road users.
But now new research is looking at whether an electrocardiogram sensor system could be embedded into car seats to monitor drivers' heart signals and raise the alarm if they begin losing alertness.
The experiments are to be carried out by researchers from Nottingham Trent University who are working with Plessey, a semiconductor firm.
With a fifth of all motorway accidents said to involve tired drivers it is hoped that the experiments could pave the way for the technology being used to save lives.
When a driver loses alertness the sensor system would be able to issue a warning for the driver to pull over, activating cruise control or lane departure technology if the alert is ignored.
Professor Tilak Dias, of the university's Advanced Textile Research Group, says conductive textile technology has the potential to produce sensor electrodes that could be embedded into car seats.
Copyright Press Association 2014