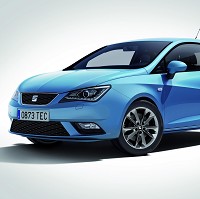 A whole new trim level is available for most Seat models with the manufacturer's latest I-Tech option.
The Spanish car firm is boosting the equipment on its Alhambra, Altea, Altea XL, Ibiza, Mii and Toledo models and adding special dark alloy wheels, special edition mats, badges and key covers to some of them.
Customers who buy the extras separately would pay up to £480 more for them, Seat says.
The dark alloys provide a real contrast with the brighter body paints that are available and Seat expects the Ibiza I-Tech to be particularly sought-after model.
It takes the SE variant of the three-door, five-door or estate Ibizas and adds 16-inch alloys, dark blue cloth and leather-like upholstery and I-Tech branded badges, mats, door sill plates and an I-Tech key cover.
I-Tech replaces the popular Toca and Copa editions of Seat cars and the Toledo I-Tech comes with a similar array of extras as seen on the Ibiza.
Copyright Press Association 2014