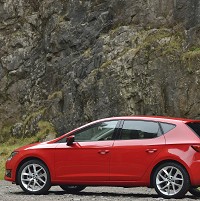 Spanish car-maker SEAT has unveiled a worthy rival to Volkswagen's Golf GTD diesel hatchback in its brand new Leon FR 2.0 TDi.
Drivers can place their orders now for September deliveries ofSEAT 's own hot hatch that offers the kind of running costs expected in supermini models with fuel consumption at 67.3 mpg and a 109 g/km CO2 emissions rating meaning there's no car tax to pay for the first 12 months.
Those who are lucky enough to have the Leon FR 2.0 TDi as a company car will pay just 16% in tax. A £22,075 outlay will secure a three-door Leon FR 2.0 TDI 184 PS with a six-speed manual gearbox.
Abreakdown of the Leon's impressive array of equipment reveals LED tail lamps, sporty suspension, sports seats at the front, connectivity for Bluetooth and MP3 and climate control.
Copyright Press Association 2013