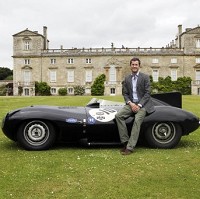 Motorists who own classics or supercars are being invited to put their vehicle forward for a unique UK vehicle beauty contest.
A Wiltshire stately home is the setting for the competition on the weekend of June 6 and 7.
The best 150 supercars and leading 150 classics will qualify for the event, a feature of the seventh edition of the Wilton Classic & Supercar Show .
Entries are now open to would-be contestants, who can email their details and pictures to info@wiltonclassicsupercar.co.uk.
Drivers heading to Wilton House's East Lawn in Salisbury can see the contest, during a weekend which will witness hundreds of other motors exhibited too.
Show founder Lord Pembroke appealed to supercar and classic owners to give it a go. He said the selection of vehicles is always "tremendous".
Entrants pay £65, inclusive of a special private motorists' breakfast, which Lord Pembroke will stage himself, and premium show admission.
Copyright Press Association 2015