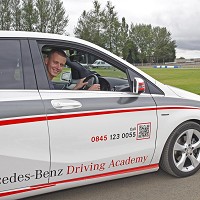 Mercedes-Benz has announced plans to find the country's best young driver through a new and different driving competition.
Participants do not even need to have previous experience, let alone a full or provisional licence. They only need to be 16 or older and taller than 1.5m to compete.
The Mercedes-Benz Driving Academy has some prizes for winning drivers on offer, such as a complete course of driving lessons, the opportunity to test-drive new cars and entry to exclusive events such as the Formula 1 British Grand Prix.
Competitors will take part in five challenges behind the wheel, which are more demanding than they look. A 'driving coach' will be present to work with each young driver as he or she develops accuracy, judgement, precision, concentration and steering.
The competition will take place at two specially-equipped and safe venues.
Finalists will be eligible to become young VIPs for the Mercedes-Benz Driving Academy, which will offer VIP treatment and the chance to meet celebrities.
Copyright Press Association 2012