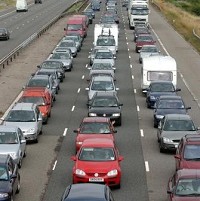 A new trial is aiming to stop accidents and tailbacks caused by rubbernecking drivers slowing down to look at crash sites.
Parts of Wales are to use 30 partitions loaned from Highways England (HE) to block accidents on the A55 from view.
Welsh ministers hope the screens, which cover a maximum length of 75m , will prevent rubbernecking drivers from causing more accidents and tailbacks.
Around nine accidents every week occurred on roads in central and northern regions of Wales such as the A494 and A55 in 2014.
Warwickshire Police prosecuted 80 drivers accused of rubbernecking in one separate incident along the M6 during June 6 of last year.
Paramedics, fire fighters, highways employees and police will be taught how to erect the partitions under the scheme, which will be trialled for a maximum of three years.
They are likely to be put up soon now that work on 35 emergency crossing points (ECP) on the A55 has been completed.
Welsh ministers say these ECPs will swing open, facilitating the free flow of traffic during major collisions.
A Welsh Government spokesperson says the screens have now arrived. Staff are being trained to deploy the screens, they added.
Welsh Ambulance Service officials have also stated that the partitions should prevent further accidents along the A55, stopping drivers from trying to view crash sites.
Brake, the road safety charity, calls rubbernecking a "serious" matter and adds it is eager to see whether the screens will reduce the number of accidents.
The screens plan follows the Welsh Assembly Public Accounts Committee's 18 recommendations on how the Government could better oversee the country's trunk roads.
Copyright Press Association 2015