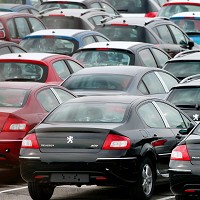 The fall in new vehicle sales has been slowed by the Government's "cash for bangers" car-scrappage scheme, figures have shown.
The Society of Motor Manufacturers and Traders (SMMT) revealed that last month 176,264 new cars were sold in the UK - a 15.7% decline on the figure from June 2008. However, it was the smallest month-on-month fall since July 2008.
The car-scrappage scheme was introduced on May 18. It gives owners of cars that are more than 10 years old £2,000 off the price of a new car when they trade in their old vehicle.
SMMT chief executive Paul Everitt said: "We are now beginning to see the positive impact of the scrappage scheme translate into new vehicle registrations.
"We expect the pace of improvement to increase in the coming months, but we can already see the industry making steady progress on the long road to recovery."
The actual June figure was about 15% higher than anticipated after the SMMT predicted in April that sales would fall to around 153,000 units.
Significantly, private buyer registrations were up 3.9% last month, the first rise in this sector since November 2007.
Copyright © Press Association 2009